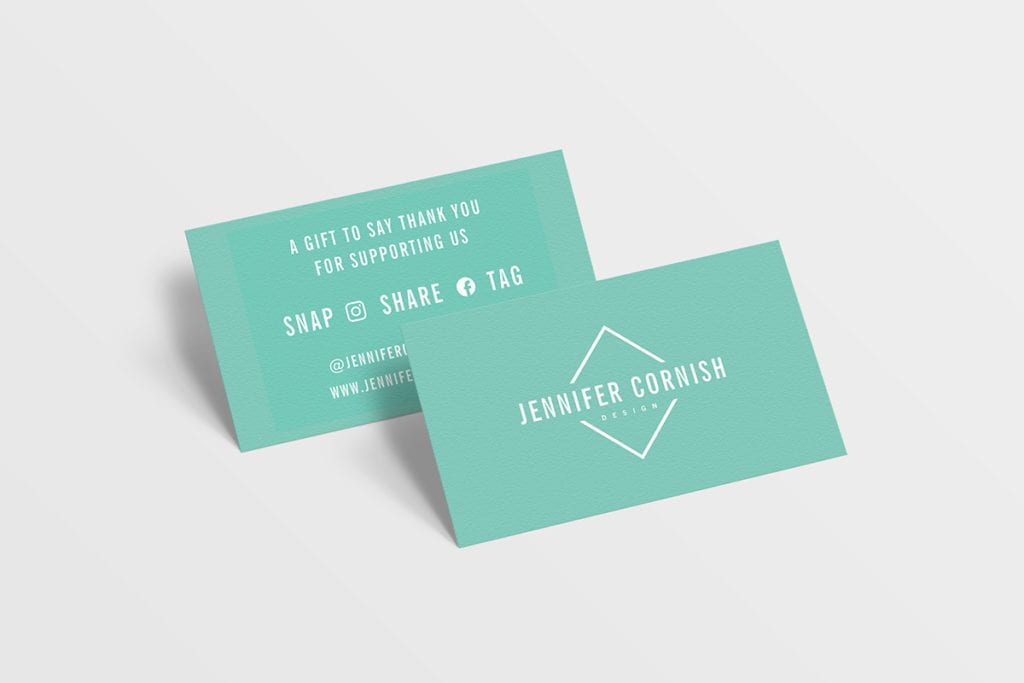 It is important that businesses don't just focus everything online. Offline marketing is just as important as online marketing. We can help you with all your graphic design and print design needs. Offering the full end to end service with our production hub. We have a huge range of products that you can customise and apply your brand to. There's nothing like building trust with you customers through printed stationary or branding clothing to add that professional touch.. And it is more cost-effective than you think.
PROMOTION
Print is the great way to promote your business and its services. Well designed high quality printed marketing materials makes your business stand out.
Professional
Building trust with your customers is so important. Printed stationary, signage, merchandise and branded clothing can support your business and boost your professional look.
NETTL PARTNER
Jennifer Cornish Design is partnered with Nettl. Allowing a team of experts to support all your printing needs with a vast range of printed products.
A business card is a valuable marketing tool in your business. However most businesses start with a business card and go no further with print. Why not give your customers extra professional reassurance with a whole range of branded stationary and marketing materials. From professional silk brochure advertising your businesses services to branded letterheads. We can provide all your branded stationary needs.
Everyone loves to see their brand on more than just paper. Our merchandise range offers a great opportunity to push your brand further. You could be organising an event where you require branded lanyards or branded coffee cups. Or better still running a promotion to give away a free towel or umbrellas. We also have a great range of outdoor equipment from branded deck chairs to branded parasols. Please take a look at our print shop for all branded merchandise ideas.
These days it's feasible to brand every surface of your building. We can design and cover your surfaces in graphics to bring your space to life. That means floors, ceilings, walls and windows. We print onto a mighty range of rigid substrates, from life-size cardboard cut-out figures to gleaming aluminium panels. And vinyl stickers too. If it is help you need designing your retail or office space or you have a vehicle that needs branding, we can help you through the whole design and print journey.
Branded clothing is one of our most popular requests we get from our clients. Branded clothing is a great way to make your team look professional and uniform. We offer print and embroidery in a wide range of colours on high quality material. Branded hats, branded hoodies and branded T-Shirts are our customers favourites. Even if you are working from home, why not get a branded hoodie for those zoom calls.
Print marketing is effectively offline marketing. Anything physical you can hold. Flyers, business cards, posters and brochures as well as so much more. All these different mediums are a great way to promote your business.
Social Media – Facebook, Twitter, Instagram

Video

Business Cards

Flyers and Posters

Search Engine Optimisation

Website

Email

Newsletters

Blogging

Google Ads

Press and Magazines
The type of marketing is endless so knowing which is best for your business and budget is key. We can help you break down the processes and create a strategy with a budget and targeted to your customers and business.
Print is important in any business, big or small to help promote and also attract customers. A common phase we hear is "I am too busy running my business to worry about marketing" While that is great it can be challenging, especially if you want to grow your business. Why not let us help you? Let's have a coffee and discuss everything marketing.
Great you have come to the right place. We offer a range of printed and embroidered products to add your logo to clothing.
Branded embroidered/print T-Shirts
Branded embroidered/print Hoodies
Branded embroidered/print Hats
Branded embroidered/print Bags
Branded embroidered/print Beanies
Branded embroidered/print Workwear